Have a Fun and Safe Day
Children under 16 must be accompanied by an adult.
Our certified team of 160 lifeguards and 75 slide attendants will ensure your safety and well-being and make sure the rules are followed.
Our First Aid station is staffed with qualified personnel at all times.
Floaties, flotation toys as well as baby/infant flotation chairs or other non lifesaving approved devices are not permitted in the park.  Personal flotation devices are available for free.
Water bottles are also available in all our restaurants.
Shaded areas and tables with parasols are available on site to protect you from the sun. In the event you forget to bring your sun protection, sunscreen, hats and sunglasses are sold at the boutique.
Public alcohol consumption or possession of open alcohol containers is strictly prohibited. Calypso Waterpark is collaborating with the Ontario Provincial Police on the enforcement of this regulation in our parking spaces to ensure a safe and enjoyable environment for all our guests. Offenders can be prosecuted and will be required to leave the premises immediately without notice. - AGCO, Ontario Liquor Law R.S.O. 1990, c. L.19, s.31, 32, 33, 34.
Medical and/or recreational cannabis and related paraphernalia including vapes and food products are not permitted anywhere on park property at anytime. This includes our parking lot and the driveway up to the street lights at Calypso Street.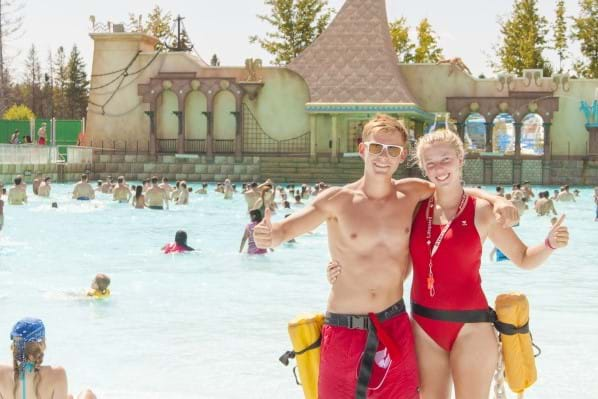 Safety tip
Each attraction has its own safety rules. These rules refer to age, height and weight limitations, restrictions on medical and physical conditions, as well as mandatory ride position.
Safety rules are displayed at the top and at the bottom of each slide. They can also be found in the Attractions section of our website.
Personal flotation devices are mandatory in some attractions for inexperienced swimmers and children under 1.22 m, (48 in).
For safety reasons, glasses are not allowed in some attractions. Glasses with straps may be worn in several attractions. Straps are available at the boutique.
We recommend that people with long hair tie it before using an attraction.
Calypso is a family-oriented park. Guests are asked to wear appropriate swimwear when using our attractions. Thongs and transparent clothing are not permitted. Bathers of all genders are required to wear an appropriate swimsuit bottom.  We reserve the right to determine the appropriateness of swimwear.
Due to manufacturer's safety requirements swimsuits with buttons, snaps, rivets or zippers and clothing such as jeans, shorts, t-shirts, rash guards, and hijabs are not permitted on body slides.
Burkinis are permitted on some attractions but not body sides and limited access to the wave pool (to the black safety line).
Attractions are not recommended for pregnant women or individuals with specific medical conditions.
Selfie sticks are strictly prohibited in all slides.
It is prohibited to bring glass containers.
It is prohibited to bring your own alcoholic beverages. 
It is forbidden to bring your own beach umbrella.
See our complete list of prohibited items under plan your visit.
Contents of all bags and coolers are subject to inspection upon arrival at the waterpark.
Children under 16 must be accompanied by an adult.
Calypso is not responsible for lost, stolen or damaged items.