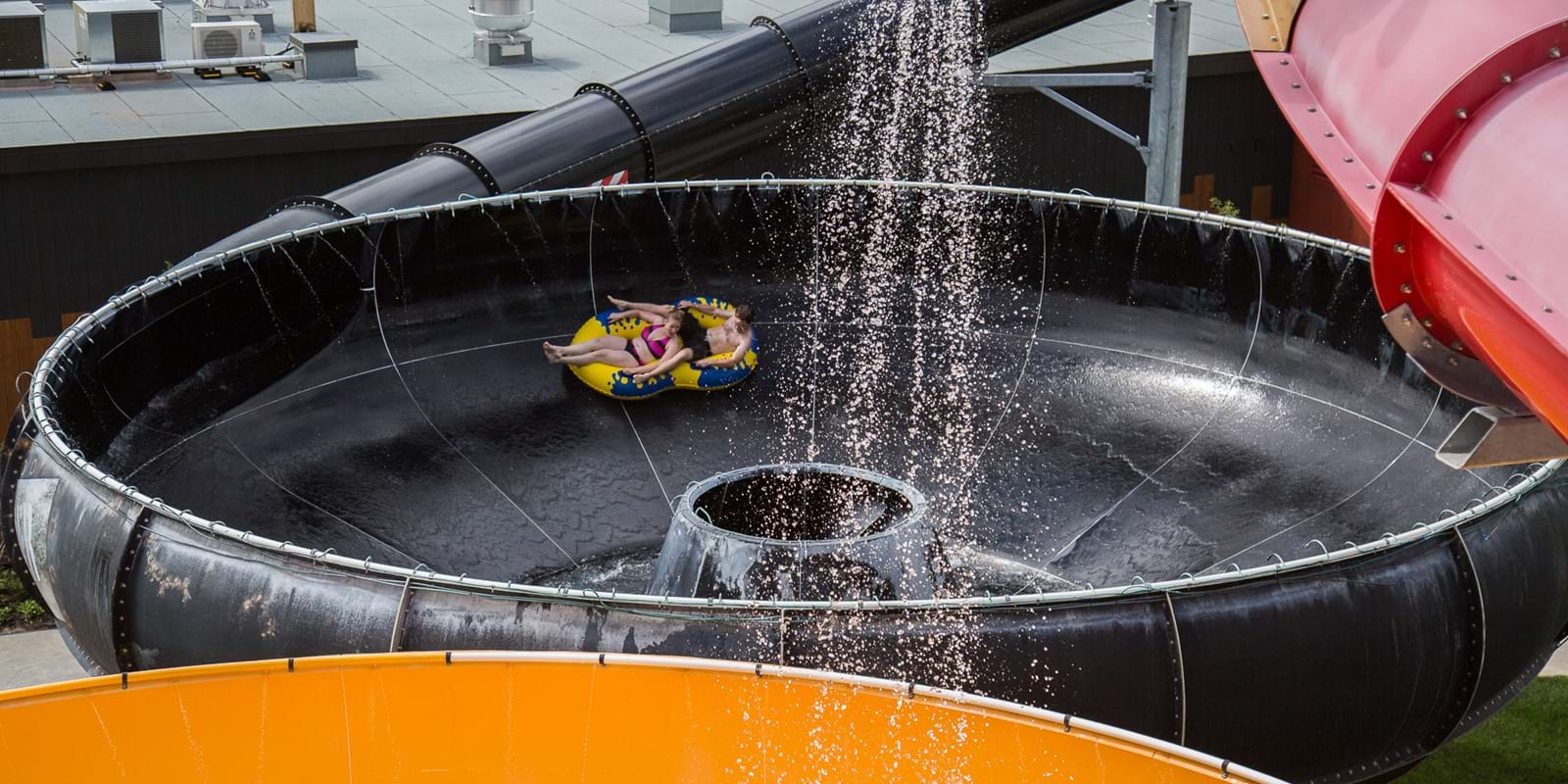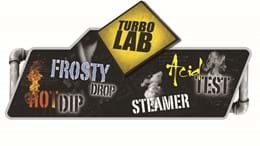 Dive into the Turbo Lab, if You Dare!
Dr. Dunk and his team of mad scientists are looking for guinea pigs for their latest invention, the Turbo Lab! Turbo Lab is 4 awesome scientific experiments. Will Acid Test make you turn green? Will Frosty Drop make you afraid of the cold? Want to defy the laws of thermodynamics in the Hot Dip? Ready for the Steamer and its speedy slide?
Acid Test: Will You Succeed or Turn Green?
Dr. Dunk and his team of mad scientists may have discovered how to neutralize acid rain! The only way to test the formula is to send two courageous volunteers barreling down the enclosed slide until they plunge into a fresh water tank. Cross your fingers! Let's hope Dr. Dunk did not make a mistake with his calculations!
Frosty Drop: Reserved for Guinea Pigs That Aren't Afraid of the Cold!
Dr. Dunk wants you to test a suspicious substance: a colourless liquid that can keep ice frozen...even in Calypso's tropical heat! It's a brain-freezing ride down an enclosed body slide towards a huge icy tank, as you break out into a cold sweat! You'll whirl and twirl until the final plunge, as you ssssshiivverr in delight!
Steamer: Full Speed Ahead!
In this corner of the lab, Dr. Dunk's mad scientists have yet to successfully transform all of Calypso's water into steam. Luckily for you, they're still working on it as you and a friend slide down full speed and make a huge splash! Let's hope Dr. Dunk and his team don't shout out "Eureka!" as you whizz around the slide's last curve!
Hot Dip: You're in Hot Water!
Dr. Dunk is looking for guinea pigs to test out his new hypothesis: he is convinced that Calypso's secret to sliding fast is hot water! Defy the laws of thermodynamics and slip and slide on your back towards a giant water tank. It's one heck of a ride! You'll barrel down the enclosed body slide, through hot air just before you plunge into heated water! You'll want to feel the heat over and over again!
Acid Test and Steamer: Safety rules: Must be at least (1.32 m) 52" tall. Maximum weight per inner tube is (182 kg) 400 lb. Users must be in a seated position, facing forward and holding the handles firmly at all times. Not recommended for pregnant women and people with heart, back or neck problems or people who are claustrophobic. Glasses with straps are permitted.
Frosty Drop and Hot Dip: Safety rules: Must be a strong swimmer and measure a minimum of (1.32 m) 52'' tall. Maximum weight is (136 kg) 300 lb. Riders must lie on their back with legs crossed at the ankles and arms folded across their chest. Glasses, shirts, pants, burkinis along with any additional clothing are strictly prohibited. Not recommended for pregnant women, people with heart conditions, back or neck problems or people with claustrophobia.
Good to know
4 slides shaped like a vortex
2 slides with two-rider inner tube (Acid Test and Steamer)
2 body slides (Frosty Drop and Hot Dip)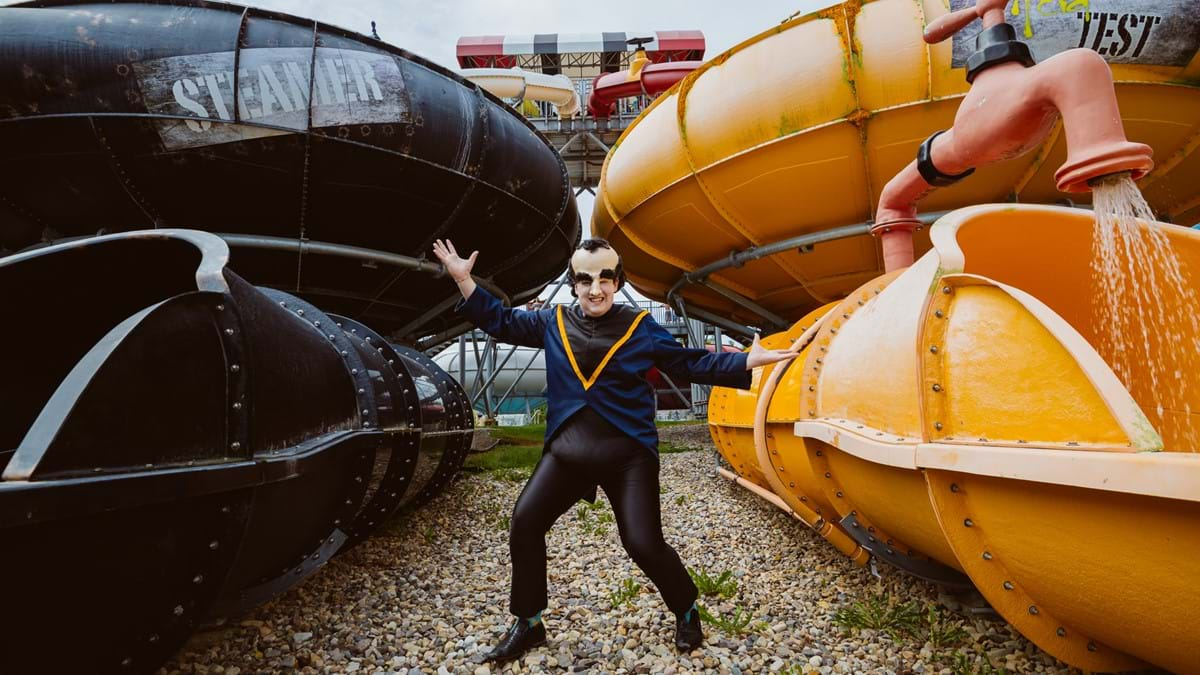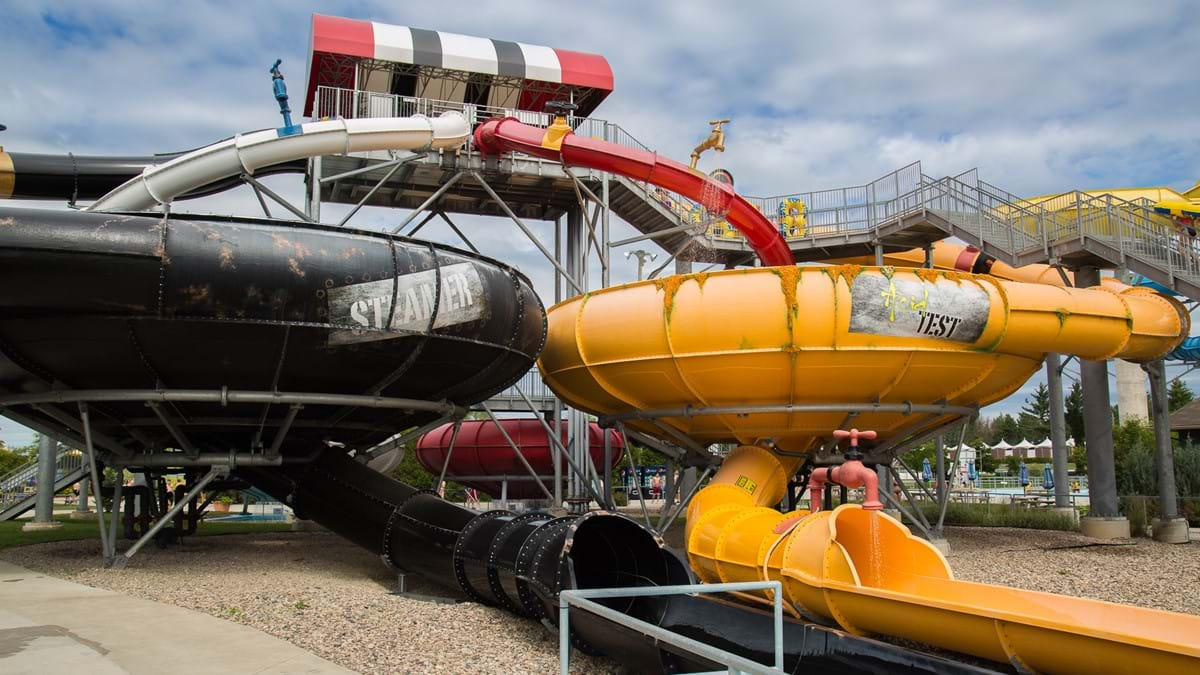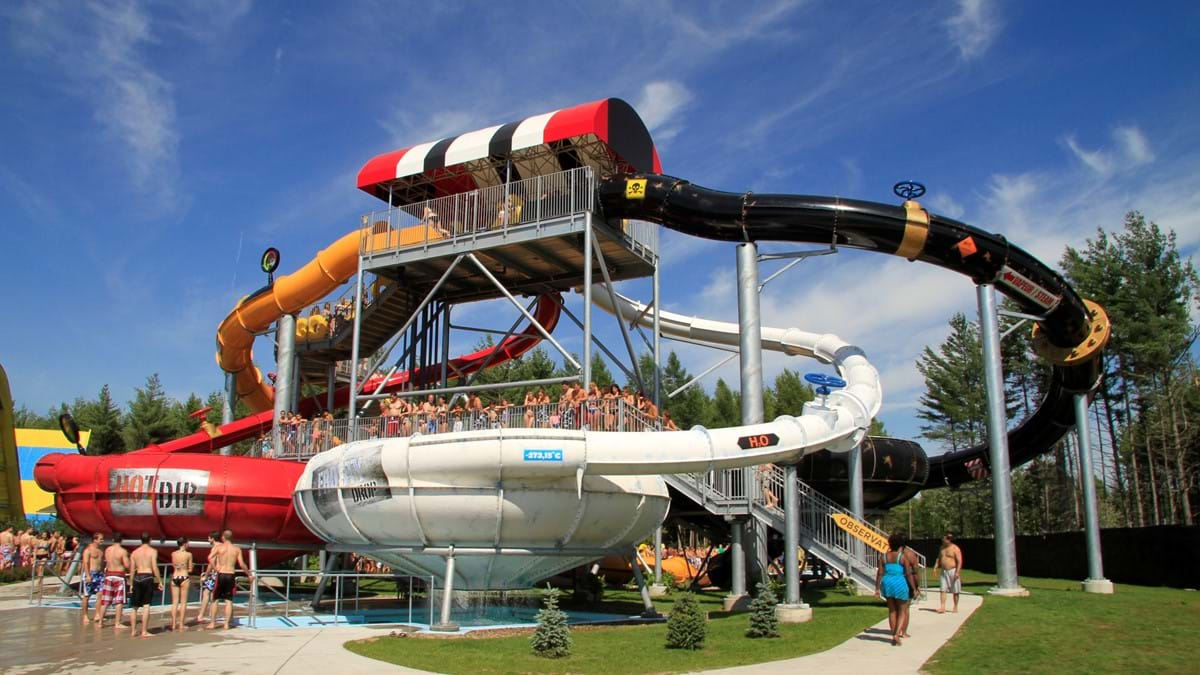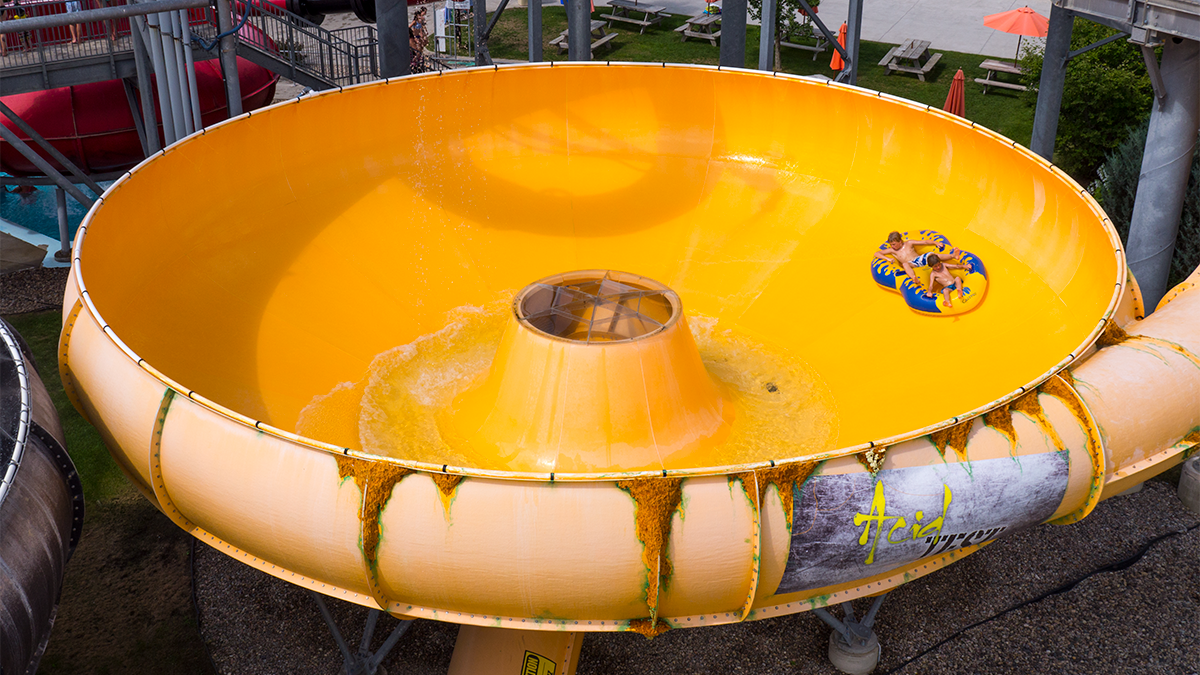 ​Dr. Dunk
"There's ALWAYS water," the enigmatic Dr. Dunk shouts as his latest experiment fails. Dr. Dunk, a famous mad scientist, is obsessed by water. Based on his mathematical calculations, he should have been able to build an underwater lab. But he failed. And his attempt to live in a water bubble was also a complete failure.
But this time, he's determined to succeed with his giant Turbo Lab! While he was hiding in Ontario's forests with his crystal ball, Dr. Dunk discovered a magical waterpark. "I'll build my Turbo Lab here, at Calypso!" he declared before excitedly crunching numbers to acheive his first aquatic success.
"Dive into my Turbo Lav, if you dare!"